By Susan Schleith
July 18, 2016
There was no roar of engines and no smelly fumes as the electric go-carts sped by the attentive crowd of students, teachers and the public gathered by the track in front of UCF's Florida Solar Energy Center (FSEC) in Cocoa. This was the final race of the Electrathon season coordinated by Electrathon of Tampa Bay, which was held in conjunction with the statewide EnergyWhiz event on Saturday, May 14, 2016. Over one thousand people, young and old, attended EnergyWhiz, with the opportunity to learn about a variety of clean energy technologies, including hydrogen, photovoltaics and electric vehicles.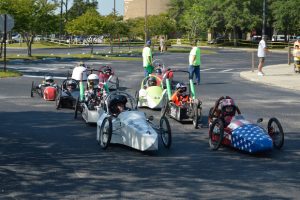 The Electrathon is a race featuring battery-powered electric go-carts that have been designed and built by the participating individuals and teams.   There are no refueling pit stops during an Electrathon race; the challenge is completing the most laps in one hour without completely draining the vehicle's battery. Nine organizations were represented at the event with several of those with multiple teams; a total of 13 vehicles raced.
In the High School and College Division, teams included:
Brandon High School, Brandon, FL
Middleton High School, Tampa, FL
Palm Bay Magnet High School, Melbourne, FL
Simmons Career Center, Plant City, FL
Tampa Bay Technical High School, Tampa, FL
University of South Florida Engineering Association, Tampa, FL
In the Open Class division, the teams were:
Robinson's Silver Bullet Racing, Titusville, FL
Tiger Racing, Rodney Schreck, Miami, FL
Electrocutioners, Claremont, FL
The winners of the first race included, 1st Place in the High School Division – Simmons Car 35, 1st Place in Open – Robinson and Son Car 94, and 1st Place in Experimental Battery – Electrocutioners Car 8. Both Robinson and Son Car 94 and Electrocutioners Car 8 had repeat wins in the second race, with the 1st Place in the High School Division going to Middleton Car 80.
One of the teams, from Palm Bay Magnet High School, proved to be a determined and tough competitor, despite some engineering problems. Their coach and teacher, Rebecca Allen, was very proud of her team's first attempt at Electrathon. Absent from the event were two first-time, Orlando area teams from University of Central Florida and Seminole State College.
The UCF team worked through the night before and into the day of EnergyWhiz to get their vehicle, Knightmare on Rainbow Road, finished and transported from Orlando to Cocoa in time to race.  Although the vehicle was roadworthy and tested, time had run out. It was too late to participate in the race.  According to Terrill Jackson, the team leader, "The team worked hard to get the vehicle ready in time, but we knew it was going to be a challenge from the start.  Although we were disappointed we didn't get to race this time, you will see us next Electrathon season (2016-2017)".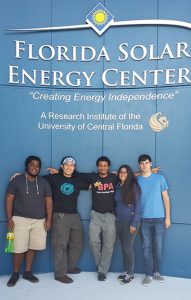 The Electric Vehicle and Transportation Center (EVTC) provided support to the UCF team by procuring vehicle parts, providing work space and identifying technical experts.  EVTC also helped the Seminole State College team get started. "Without EVTC, these teams would not have had this immersive STEM learning experience," said Susan Schleith, who first challenged the two teams to build vehicles. "I saw first-hand the time and effort that the UCF students put into this. This is an extra-curricular project that required weeks, if not months of work.  Despite numerous obstacles – limited time on weekends only to work on the vehicle, delays in delivery of critical parts and having to learn new skills, such as welding – the team worked through it all and didn't give up.  Now every member has real world, hands-on engineering experience. When you talk with this UCF team, you can't help but get excited by their enthusiasm and desire to share what they have learned about electric vehicle technology with others."
For more information about Electrathon, visit www.fsec.ucf.edu/go/EVTC_Electrathon.
Please follow and like us: