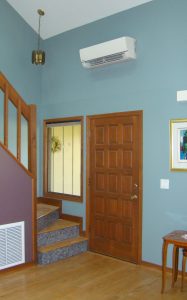 By Sherri Shields
COCOA, Fla., July 11, 2017—The University of Central Florida (UCF) is one of six nationwide teams selected by the U.S. Department of Energy (DOE) to receive $3.7 million to study how to improve energy efficiency and indoor air quality (IAQ) in homes.
The selected projects are expected to lead to improved home energy efficiency and smarter home operation for millions of American families, saving money on their energy bills while improving health and comfort.
UCF will get more than $870,000 for two, two-year projects, which will be led by the university's Florida Solar Energy Center (FSEC) in Cocoa, Fla. The center is a leader in energy research, with three decades of energy and buildings research, technical assistance, and training experience. It's expertise has led to it being named a DOE Building America Program's Industry Partnerships recipient.
For one project, UCF will further refine a new approach to using mini-split heat pumps in existing homes. Mini-splits are highly efficient ductless heating and cooling systems typically used to condition small spaces. With the new funding, UCF will focus on using a single, centrally located mini-split heat pump as the primary system, while only using the existing, lower efficiency central system as needed.
Previous FSEC research documented 34 percent average heating and cooling energy savings for Florida homes that utilize this novel approach. As part of the new project, best practice guidance for optimum design, installation, system control, and central system replacement at end-of-life will be developed. Partners in the effort include Mitsubishi Electric Cooling and Heating and AirCycler.
For the second project, UCF will be part of a national study aimed at characterizing indoor air quality in occupied homes. The homes will be up to current energy codes and researchers will closely monitor the use and performance of mechanical ventilation systems in those homes as part of the study.
"These research topics are important to advancing the efficiency of new and existing homes," said Eric Martin, program director at FSEC. "Mini split heat pumps can save energy and add comfort to existing homes, yet integrated controls that enable them to work in conjunction with a central system are needed. New homes need to bring in outside air as part of a comprehensive strategy for good indoor air quality, but humidity is always a concern. Our research will lead to improved guidance for homebuilders, contractors, and for future standards and code changes."
These awards build on previous and ongoing work conducted by the DOE Building America Program's Industry Partnerships, and will contribute to achieving the Energy Efficiency and Renewable Energy's (EERE) Residential Building Integration program's goals of reducing the energy use intensity of new homes by at least 60 percent and existing homes by at least 40 percent, relative to the 2010 average for homes in each major U.S. climate.
"The Building America program brings together leading building science experts and industry partners to tackle major technical challenges in real homes. These innovative projects will advance our understanding of building performance, help U.S. industry innovate, and provide the public with reliable, unbiased technical information on home innovations," said David Nemtzow, director of the DOE's Building Technologies Office.
View the Energy Department's announcement at: https://energy.gov/eere/buildings/articles/energy-department-announces-37-million-building-america-industry
For more information, contact Sherri Shields, FSEC communications director, at sherri@fsec.ucf.edu or 321-638-1019.
###
PR17-07
Please follow and like us: