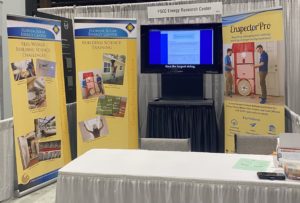 FSEC Energy Research Center (FSEC ERC) was proud to support and exhibit for another great year at the Southeast Building Conference (SEBC). Held at the Gaylord Palms Resort & Convention Center in Orlando, this well-attended regional building industry expo and education conference was a success. The excitement on the show room floor was electrifying, as everyone was pleased to be out and getting ready for a productive second half of the 2021 building season. For those not familiar with this event, take a moment to visit their website, https://sebcshow.com/.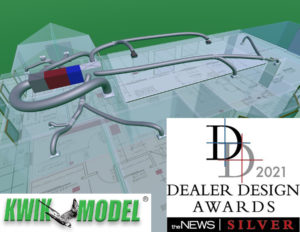 Tei Kucharski and Jeff Myron of FSEC ERC's Buildings Research were there promoting EnergyGauge with Kwik Model 3D. This latest software application is a quick and easy way of creating 3D computer models of any home. The best news about this app is that you do not have to use CAD software or have CAD experience. The Kwik Model 3D graphical interface works exclusively with EnergyGauge and provides easy input to EnergyGauge. For the EnergyGauge users out there that are gamers, you will really enjoy the super realistic video game platform utilized by Kwik Model. It is definitely intuitive, fast, and fun. Try it out now at Kwik Model and visit EnergyGauge websites.
ACHR News, one of the largest HVAC contractor's news magazines, was delighted to announce that Coded Energy, the developers of Kwik Model, won the Silver award in the Contractor Services and Software Category. For more details, see the ACHR News announcement.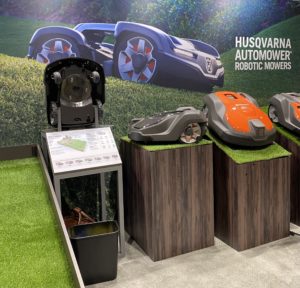 The SEBC exhibit hall was bursting with new and innovative ideas. One device that caught our eye when walking the floor was the latest addition of robotic electric lawn mowers. For those that live in a hot climate this will become you next best friend, not to mention a better alternative for the environment.
Elizabeth Myron of FSEC ERC's Workforce & Business Development had the opportunity to promote our very own FSEC EnergyWhiz event, as well as getting the word out about the American-Made Challenges program and Drive Electric Florida.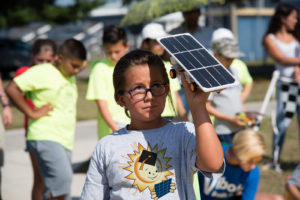 EnergyWhiz is a renewable energy focused event for students to display and demonstrate their science, technology, engineering, art and math (STEAM) skills. The 2022 events in February and April are ones you will not want to miss, as competition categories are available to entrants virtually and live in-person. Check out the EnergyWhiz event flyer.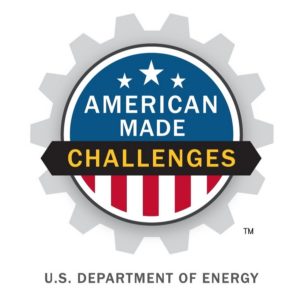 Entrepreneurs, are you ready for a challenge, an American-made Challenges (AMC)? Win cash prizes for your ideas that help to advance U.S. leadership in the energy industry. AMC is all about "Empowering American Innovators to Lead the Clean Energy Revolution." Become part of this amazing opportunity by visiting https://americanmadechallenges.org/solve.html and if you participate, be sure to choose FSEC Energy Research Center as your Power Connector.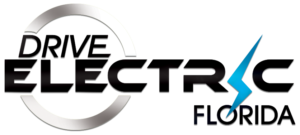 For all you EV owners or those aspiring to own one, the Orlando Drive Electric Florida event on September 25 is an opportunity for EV owners to raise awareness and for attendees to learn more about the benefits of driving electric. Visit https://driveelectricweek.org/event.php?eventid=2767, register your vehicle, attend and consider becoming a member of DEFL.
We hope to see you all at SEBC 2022!