COCOA, Fla., March 2, 2022—How many energy transfers can you demonstrate in 60 seconds? What is the most energy efficient home for raising butterflies? What artistic inspiration can be found in renewable energy and climate change? These are just some of the questions answered with demonstrations at this year's EnergyWhiz Virtual.
More than 225 students from 79 schools throughout the state of Florida participated in this year's virtual event from February 14-18. EnergyWhiz is a renewable energy-focused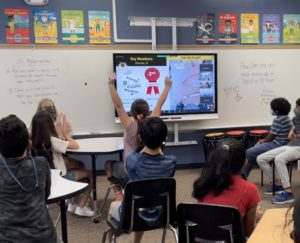 event dedicated to giving K-12 students a hands-on approach to project-based learning activities utilizing science, technology, art, and math (STEAM) capabilities. Hosted by the FSEC Energy Rese
arch Center, a research institute of the University of Central Florida, EnergyWhiz is an annual event that began more than 20 years ago and now includes virtual, in-person and regional options.
Teams from all over the state of Florida—as far north as Tallahassee, and as far south as Pinecrest— showcased their STEAM talents at EnergyWhiz Virtual.
Typically an in-person event held at FSEC Energy Research Center in Cocoa, EnergyWhiz was modified to be a virtual event in 2021 due to the COVID-pandemic restrictions. This year, however, both EnergyWhiz Virtual and EnergyWhiz (in-person) are being offered. The virtual event provides a way for teams to easily compete against their fellow Floridian students across the state.
"EnergyWhiz Virtual, once again, was a reminder of the brilliant and creative minds Florida students possess," Susan Schleith, program director of K-12 Energy Education at FSEC ERC, said. "We had so many great entries, and it was hard to pick winners in each category! If you need a shot of inspiration, just take a look at the student projects."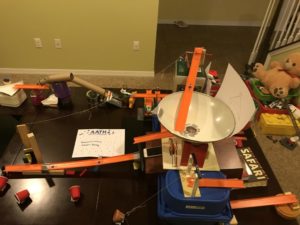 One example of these amazing projects was "Neil's ET Machine," an energy-transfer machine submitted into the 6-8 grade category by Neil of Orlando Science Schools.
His machine consisted of a complex array of "energy transfers", such as marbles rolling down ramps that would then hit a piece of wood attached to a string, causing the weight of the wood to drop and take the string with it, which would be attached to another piece of the project to continue the movement throughout the scheme. Neil's project not only one placed first for his technicality and creativity, but also won the Most Precise Award for being the only project to complete all his energy transfers in exactly 60 seconds.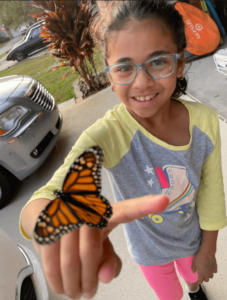 Another example came from the "Critter Comfort Cottage" category, which was a challenge issued to students to build an energy efficient home for a critter. "Team Caterpillar Castle," a team of two from Sally Ride Elementary in Orlando competing in the 3-5th grade category, won first place for their amazing monarch habitat. Zola and Kensleigh designed an energy-efficient habitat using all recyclable materials that helped raise monarchs throughout the entire butterfly life cycle, from egg to caterpillar (called instars) to metamorphism into a butterfly. The habitat allowed the instars to be raised without the threat of predators and pests, offered shelter from the rain, and unlimited fresh food. Once the caterpillars had reached an older life-cycle stage, they were moved into a different chamber adapted to that phase of their life. Once the caterpillars had built their chrysalis' and changed into a butterfly, they were released. The project was aimed at increasing the monarch population and raising the currently declining rate of monarch caterpillars' ability to reach adulthood.
The nearly 80 teams who participated in this year's virtual event uploaded their projects to a website that allowed for industry experts and the community to view and comment on all of the projects. Judges awarded prizes to first, second, and third place winners in five different categories in grades K-2, 3-5, 6-8, 9-12.
"Our team was thrilled to win 2nd for Energy Transfer Machine and have two students mentioned for the EnergyWhiz Quest scavenger hunt. More importantly, the students learned so much working on the projects," Mandy Fillenwarth, STEAM Magnet Coordinator at Bay Meadows Elementary in Orlando, said. "My proudest moment was watching our students clapping for other students during the virtual awards ceremony."
"FSEC created EnergyWhiz as a way to showcase clean energy concepts and to help students learn more about energy and the important research happening at FSEC," said Dr. James Fenton, director of the FSEC Energy Research Center. "This research is helping to create clean energy jobs and a healthier environment, all while making Florida more energy independent, resilient and sustainable."
"The research areas at FSEC are reflected in the competition categories that make up EnergyWhiz. These sometimes change from year to year and have included solar thermal technology, photovoltaics, battery storage, hydrogen fuel cells, electric vehicles, and energy efficient building design and construction."
The list of EnergyWhiz Virtual winners is posted on the FSEC Energy Research Center blog at the link below. A video of the awards was also posted on the EnergyWhiz website at https://www.energywhiz.com/energywhiz-virtual-2022/. Details and registration for the in-person event, which will be held April 30, as well as regional events throughout Florida, can be found at www.energywhiz.com.
PR22-02