October 24, 2014
Newly updated software offers construction-industry professionals substantial time-savings while completing required energy modeling calculations for LEED® and energy code projects. A limited-time discount is available.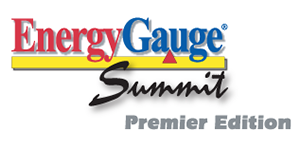 Commercial construction companies have a new tool to help their clients build LEED® certified buildings faster and more efficiently thanks to the University of Central Florida's Florida Solar Energy Center® (FSEC®).
FSEC® released the EnergyGauge® Summit Premier 5.00 software at this year's Greenbuild conference in New Orleans. The conference is the premier event for sustainable building in the United States and draws thousands to learn about the latest technology and techniques. FSEC's state-of-the-art software provides construction-industry professionals with the opportunity to substantially reduce the time required to complete energy modeling for the commercial construction LEED® rating system and code compliance using ASHRAE 90.1 or IECC.
Summit Premier version 5.00 continues its tradition of automatically calculating the reference buildings for various programs, greatly improving reliability while saving time. Competitor software programs require modelers to create and run the reference building.
This newly-updated version contains several improvements that greatly increase its function. The software covers compliance and rating procedures for ASHRAE standard 90.1 2010, 2007, 2004, and 2001; compliance procedures for IECC 2012 and 2009; LEED v4, 2009; NC 2.2 and 2.1; and Florida Energy Code.
This new and easy-to-use software versionis an advancement of a product that is used in Florida for commercial building code compliance by more than 1,500 users. The Premier edition includes nationwide climates, IECC energy codes, and LEED® energy optimization features.
The United States Green Building Council's (USGBC) LEED® system is the leading green building rating system in the United States. The organization mandated that each project achieve at least two energy optimization points in their rating. EnergyGauge Summit Premier users can simply enter the design building characteristics, and the software calculates everything else for these important point credits. This automatic, baseline-building generation and template-completion feature will save the typical energy modeler many hours on each building submission.
The software automatically creates the ASHRAE standard 90.1-baseline building, performs the ASHRAE Appendix G rating procedure, and calculates the points achieved for LEED energy optimization. It also calculates ASHRAE Standard 90.1 compliance, based on the performance method, as called for in ASHRAE performance-based energy code compliance methodology.
A free, fully functional trial version of the new EnergyGauge Summit Premier software can be downloaded at www.EnergyGauge.com. The software retails for $949 per annual license, but FSEC is offering a $100 discount until December 20, 2014.

About EnergyGauge®
EnergyGauge energy analysis software is produced and distributed by the Florida Solar Energy Center (FSEC), a research institute of the University of Central Florida. EnergyGauge is a registered trademark of FSEC. FSEC has been conducting research on energy efficiency in buildings since 1980. EnergyGauge software products include EnergyGauge Summit for commercial buildings, EnergyGauge USA for residential buildings. More information is available at www.EnergyGauge.com.
About FSEC
The Florida Solar Energy Center® (FSEC®), a research institute of the University of Central Florida, is the largest and most active state-supported energy research institute in the nation. Current divisions and their research activities include Advanced Energy Research: alternative transportation systems, hydrogen fuel and fuel cells; Buildings Research: energy-efficient buildings; and Solar Energy: solar water and pool heating and solar electric and distributed generation systems. For more information about the center, visit www.fsec.ucf.edu or call the FSEC Public Affairs Office at 321-638-1015.
America's Partnership University: The University of Central Florida (UCF), the nation's second-largest university with nearly 60,000 students, has grown in size, quality, diversity and reputation in its first 50 years. Today, the university offers more than 200-degree programs at its main campus in Orlando and more than a dozen other locations. UCF is an economic engine attracting and supporting industries vital to the region's future while providing students with real-world experiences that help them succeed after graduation. For more information, visit http://today.ucf.edu.
About ASHRAE
The American Society of Heating, Refrigerating and Air Conditioning Engineers (ASHRAE) creates standards used internationally for building energy and ventilation performance such as ASHRAE 90.1 for commercial building energy performance. More information is available at www.ashrae.org.
About LEED®
Leadership in Energy and Environmental Design (LEED) is a registered trademark of the United States Green Building Council (USGBC) and represents The Leadership in Energy and Environmental Design (LEED) Green Building Rating System, the nationally accepted benchmark for the design, construction, and operation of high performance green buildings. One of the key elements for earning points in the popular LEED rating system is the buildings energy performance. More information on LEED is available at www.usgbc.org/.
PR14-04